THE RAILBIKES OF THE MOLIGNÉE
Young children
For small children you can use a maxi-cosi, the child seat of your vehicle, a shawl or a baby carrier/ backpack. Until the age of 6, children can sit on the lap of people who are not pedaling. From 6 and up the child occupies a seat and the number of seats is limited to 4 per railbike.
Pets
Your pets are welcome on our site. They need to be kept on a leash at all times though, even on the railbike.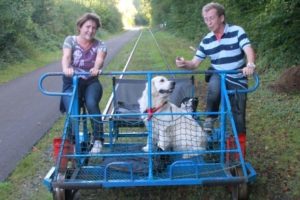 Payment
Payment on site: either cash or by bank card (Visa, MasterCard, Bancontact, ..).
Reservation: payment by bank transfer on invoicing.

Parking
There is ample parking for cars and coaches at each starting point.
Too slow, too fast
There is a distance between each railbike, as overtaking is impossible, if another bike catches up with you, you can switch.
When to book?
It is impossible for us to predict when the last railbike will be booked.  Don't wait for the latest weather forecast to make your reservation.
You can book through this link and in any case, you can cancel at no cost.
Course details
You can find the geographical maps of the routes via this link.
breaks
.The length of the break varies depending on your departure time.
Each departure is spread over 30 minutes (from 10 am to 1030 am for example). 
In this example: if you leave at 10 am from Warnant, you will arrive around 10:30 am at Falaën station and the return starts between 11 am and 11.30 am. Your break will therefore last between 30 minutes (if you leave at 11 am) and 1 hour maximum if you leave at 1130 am.
If, on the other hand, you leave Warnant at the last minute at 10.30 am, you will arrive around 11.00 am at Falaën station. The return is scheduled between 11.00 am and 11:30 am. You will have between 0 and 30 minutes time for a break.